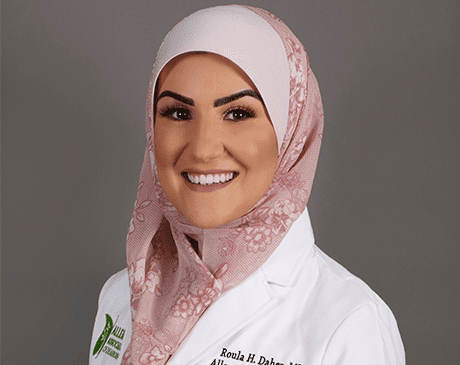 About Allergy Associates of Dearborn
Dr. Roula Daher welcomes both children and adults to her practice – Allergy Associates of Dearborn, in Dearborn Michigan. She is a double-board certified physician and specializes in Allergy & Immunology. While she treats the full range of allergies, she's especially interested in asthma, food allergies, and eczema.
As a native Detroiter, Dr. Daher received her undergraduate degree from the University of Michigan – Dearborn and her medical degree from Wayne State University School of Medicine in Detroit. She completed her pediatric residency at the Children's Hospital of Michigan – Detroit Medical Center, staying there to complete a fellowship in allergy and immunology.
Dr. Daher is board certified by the American Board of Allergy and Immunology, as well as the American Board of Pediatrics. She maintains active membership in numerous professional organizations, including the American Academy of Allergy, Asthma, and Immunology, the American College of Allergy, Asthma, and Immunology, the American Academy of Pediatrics, and the American Medical Association.
In addition to caring for patients in her private practice, Dr. Daher is actively involved in research and on staff at Beaumont Hospital in Dearborn. She looks forward to continuing to care for the health of her current patients and is currently accepting new patients.